・
If you make an inquiry on Saturday, Sunday, or holiday, or at the end or beginning of the year, we will give a reply to you on the next business day or later.
・
Depending on your inquiry, we may not use the e-mail to reply to you. For this reason, if your data is not entered correctly, we cannot reply to you.
*
Do not use half-size katakana or special characters (Greek numerals, circled numbers). If these characters are used, your inquiry may not be correctly sent to us.
Fields marked with an asterisk (*) are required.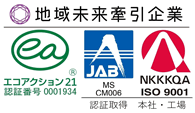 In March 1999, our head office and plant obtained the ISO 9001 approval.