The energies needed for the petrochemical plants, ships, food plants, boilers, etc. should be used highly efficiently, and the impacts on the environment should be also considered. Since the global warming preventive measures are taken on a worldwide level nowadays, thermal control is very important. To meet various needs, Hyoda is now developing various types of thermometers and measuring instruments that can be used for various purposes: from household articles to nuclear power plants. Our products are preferably used for temperature control at various places and facilities.
| | |
| --- | --- |
| Fluid filled thermometers, Bimetallic thermometer etc. | |
In our daily lives and in various industries, it is very important to stably supply the high-quality electric power. Hyoda, therefore, has lined up various protective devices that can be used for power plants, heavy electric equipment, substations, etc.
・Buchholz relay
・Pressure relief valve
・Oil flow meter
・Sudden gas pressure relay etc.
Megalopolises have been constructed in various countries all over the world, and they have been highly urbanized. In these big cities, Hyoda's measuring instruments are preferably used so that the urban industries can be operated smoothly and safely and the citizens can live their lives comfortably and safely. In this way, Hyoda is supporting various cities in the world by providing measuring instruments for various applications, such as thermometers for boilers, thermometers for air conditioner pipes, pressure gauges for air conditioner pipes, and thermometers for molded transformers of buildings.
・Dial thermometer for molded type transformer

・Thermometer for air conditioning system

・Pressure for air conditioning system
Since mobility has been remarkably improved in these days, high-speed and high-performance transportation systems, such as railroads, have been introduced to our daily lives. Hyoda's protective devices, such as car thermometers, are used for these new transportation systems to ensure safe, efficient, and comfortable transportation.
・Temperature indicator-relay
・4~20mA Transmission temperature detector
・Oil flow meter
・Pressure relief valve

Fluid filled thermometers
Organic fluid or gas is sealed in this thermometer, and the Bourdon tube or bellows is used for the indicator of this thermometer.
Bimetallic thermometer
For this thermometer, a bimetal consisting of two metal conductors having different thermal expansion coefficients is formed in a spiral. This thermometer uses the movement of this bimetal to measure the temperature.
Thermocouples
This is a temperature detector. For this temperature detector, two types of conductors are combined with each other because a thermoelectric power is generated depending on the temperature difference at the interface.
Resistance bulbs
This is a temperature detector, and this temperature detector detects the electric resistivity of metal that changes depending on the temperature. Generally the metal used for this temperature detector is platinum wire.
Thermowells

This product is used if the item to be subject to measurement is highly corrosive, if mechanical strength is required, or if it is necessary to remove the temperature sensor without causing any problems in the process operation.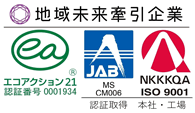 In March 1999, our head office and plant obtained the ISO 9001 approval.