Hyoda Instruments Corporation has been developing thermometers and measurement/control devices for about 90 years. The products developed and manufactured in these years are the results of our efforts and will be recorded in history.
March, 1917
Tomoichi Hyoda starts business in Osaka repairing and manufacturing
metallic diaphragm thermometers and pressure gauges
March, 1945
Factory totally destroyed by fire during the war
August, 1947
Factory reconstructed at present location
(Higashi Osaka City, Osaka Prefecture)
July, 1953
Establishment of incorporated company, Hyoda Instruments Corporation
October, 1958
Establishment of Tokyo Sales Office
February, 1962
Establishment of Kita-Kyushu Sales Office
April, 1963

Establishment of Hyoda Shoji Co, Ltd
March, 1964
Establishment of Nagoya Sales Office
March, 1966
Establishment of Hiroshima Sales Office
June, 1966
JIS Mark accreditation for Hyoda Instruments factory
February, 1967

Establishment of Kanazawa Sales Office
April, 1972
Establishment of Okayama Sales Office
May, 1974
Establishment of Sales Headquarters in Nishi-ku, Osaka City
June, 1975
Establishment of Tokyo Branch in Nishi-Shinbashi, Minato-ku, Tokyo
June, 1976
Construction of a new office building in Kita-Horie, Nishi-ku, Osaka
(Sales Headquarters, Osaka Branch)
November, 1978
Construction of a new office building in Higashi Azabu, Minato-ku, Tokyo
(Tokyo Branch, Hyoda Shoji)
March, 1981
Transfer of Kita-Kyushu Branch to Fukuoka City
March, 1999
Acquisition of ISO9001 accreditation
October, 2007
ECO Action 21 accreditation and registration
Institute for Global Environmental Strategies
June, 2020
Unify Hiroshima Sales Office to Osaka Branch
March, 2021
Unify Kanazawa Sales Office to Nagoya Branch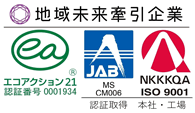 In March 1999, our head office and plant obtained the ISO 9001 approval.