The high-performance products manufactured
by Hyoda Instruments Corporation are spreading from Japan to various countries in the world.
Hyoda is striving to ensure happy days in the future for the people and to protect
the beautiful environment for the next generation.
Hyoda uses the thermosensing technology to see the tomorrow's world.
Warm now, and sense tomorrow! Hyoda thermometes the future.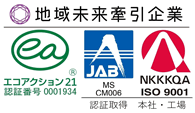 In March 1999, our head office and plant obtained the ISO 9001 approval.