| | |
| --- | --- |
| HOME > PRODUCTS > | Gas density switch |
*Click the image of the desired instrument. The details of the instrument will appear.
-- SF6 Gas Pressure Switch --

TPS型

-- SF6 Gas Pressure Switch --

TPM型

-- SF6 Gas Pressure Switch --

TPR型
Regarding the products shown:


For a detailed specification of each product, please see the corresponding catalog prepared by Hyoda.
If you need a catalog, fill out the inquiry form and clearly write that you need a catalog, and then send the written form to us.
If you have a question, please contact us.

* If you order a product other than the dial thermometer, please inform us the desired specifications for your application.
* If you install our product in a special environment, such as an export plant, please inform the details of the installation place, item to be subject to measurement, etc.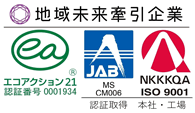 In March 1999, our head office and plant obtained the ISO 9001 approval.