| | |
| --- | --- |
| HOME > PRODUCTS > Dial thermometers > | Fluid Filled Thermometer |
| | | | | |
| --- | --- | --- | --- | --- |
| | | Fluid Filled Thermometer | Fluid Filled Thermometer | 封入温度計(LQ)用 |
Type

<ギヤーレス式>
KME-2型(指示付き)、KME-4型(無指示)
温度レンジ
標準レンジから選択
感温部
カタログ P5 参照
取付ネジ
カタログ P5 参照
導管長さ
有機液体単導管 10m
気体式     50m
In order to view the documents you have downloaded from this site, you will need the software known as Adobe Acrobat Reader.
If you do not have Adobe Acrobat Reader installed on your computer, please click here to enter the Adobe website.
Follow the instructions within the site to download this free software.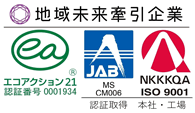 In March 1999, our head office and plant obtained the ISO 9001 approval.